The coronavirus pandemic has disrupted people's lives socially and economically in a global challenge the likes of which we haven't seen in decades. While many governments were swift to implement economic stimulus packages, lockdowns and curfews, marginalized groups such as LGBTIQ+ persons, women and sex workers found themselves at the margins of these responses and faced greater social injustice than ever before.
In Kenya, just like many countries, Covid-19 restrictions like stay at home directives and bans on social gatherings exacerbated the risk of violence (physical and psychological) for the LGBTIQ+ community and sex workers. Homelessness, lack of health care and job losses rose particularly amongst these groups. Worse still, the existing criminalization of sex work and same-sex sexual activity both fueled and "excused" harmful hate narratives and crimes committed against these communities.
But together we must stop the hate
But this year's International Day Against Homophobia, Transphobia and Biphobia (IDAHOT) is championing hope and calling for action to counter hateful stereotypes of LGBTIQ+ persons with its theme: "Together: Resisting, supporting and healing!''
We want to shed a spotlight on two Hivos partner organizations that were on the frontlines of strengthening the resilience of LGBTIQ+ communities and minority groups in Kenya at the height of the Covid-19 pandemic. Supported by Hivos' Strong in Diversity program in 2020, Elite LBQ and Kenya Sex Workers Alliance (KESWA) rallied relief efforts for LGBTIQ+ persons and sex workers in immediate need of safe shelter, food and psychosocial support.
The support offered by Hivos was part of our rapid response addressing the unique needs of marginalized communities at risk during the Covid-19 crisis. Through emergency grants, partner organizations received core funding crucial to keep them operating and cushioning vulnerable communities in repressive environments.
We are pressing for the right to be
Elite LBQ is a local grassroots organization in Western Kenya that advocates for integrated healthcare services inclusive of Lesbian, Bisexual, and Queer (LBQ) women. It further champions the creation of safe spaces where LBQ women can express themselves without fear of stigma or discrimination, get to know their rights, and receive mental health support.
The pandemic worsened stress and anxieties about the future – particularly for communities that society turns its back on
Co-founded by Sara Akinyi, who is the current director, the organization offered food donations and personal hygiene packages to 48 LBQ women in Busia, Bungoma, Kakamega, Siaya and Vihiga Counties in Western Kenya. The women also received psychosocial support through free telephone therapy sessions and a bi-weekly information package on Covid-19 mental health awareness, all of which went a long way in enhancing their well-being. They did this through the Save a Life Project funded by Hivos East Africa.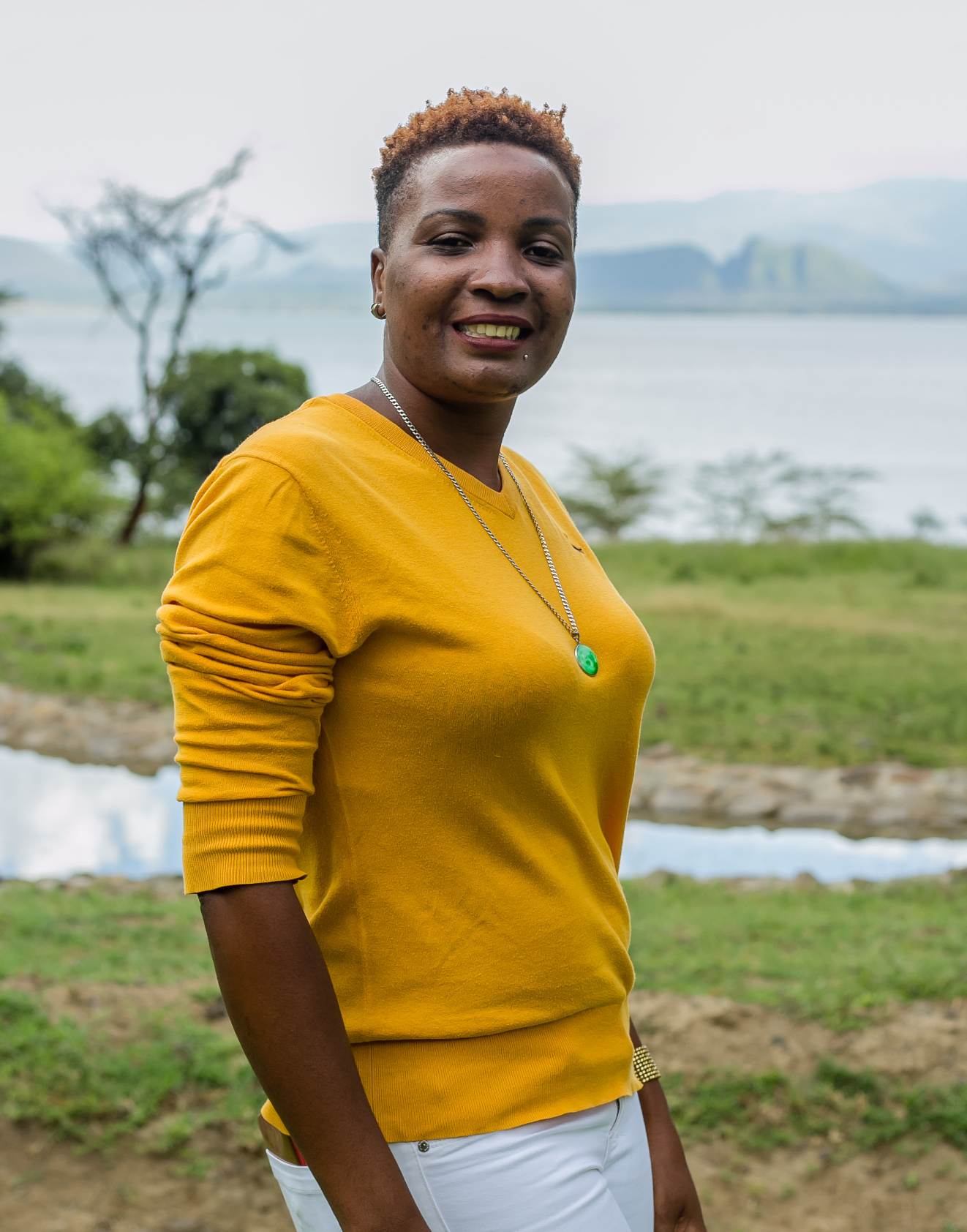 ''Psychosocial support for vulnerable communities is something that can be overlooked by many funding opportunities. The pandemic worsened stress and anxieties about the future – particularly for communities that society turns its back on,'' said Sara. The resolve of Elite LBQ to meet the urgent needs of the community was a stellar example of solidarity and standing up for communities that face serious human rights abuses.
During this year's IDAHOT celebrations, Sara is championing the rights of all LGBTIQ+ persons to life, to the highest attainable health care, to education, to freedom of expression, to privacy, to freedom of association, and to simple human dignity.
She envisions a world where queer persons are accepted, respected and able to enjoy their full rights and fundamental freedoms just like any other citizens of this country.
We exist and press for our inclusive rights
Sex work has always been a polarizing topic, with some calling for an end to sexual exploitation through criminalization, and others calling for dignified and humane working conditions for sex workers to earn a living like everyone else.
The Kenya Sex Workers Alliance (KESWA) understands these narratives well and has been at the forefront of advocating for decriminalization of sex work and its recognition as work.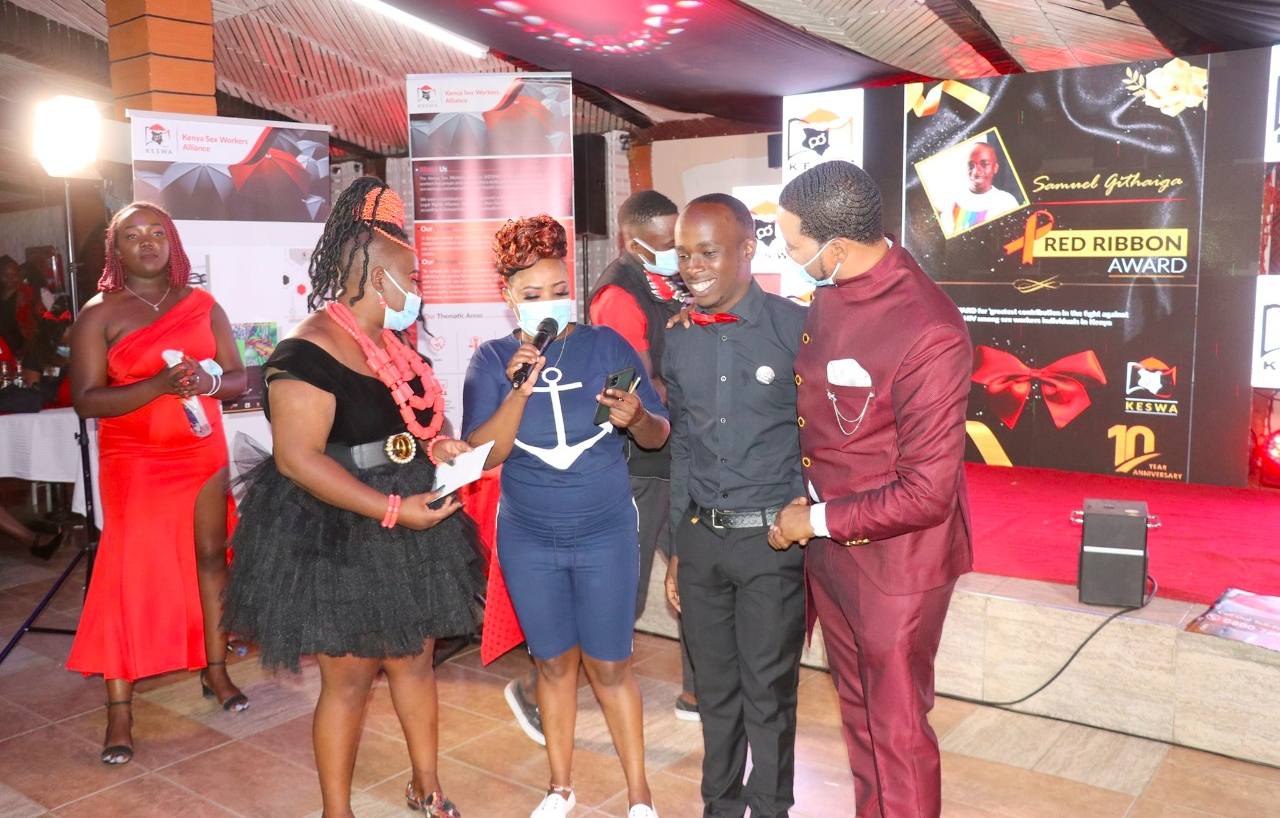 As the premier umbrella body of sex workers in Kenya, KESWA aims to strengthen their voice and empower their health and human rights. The organization is inclusive and embraces members of different sexual and gender identities, cultures and religions.
When the pandemic hit in Kenya, sex workers found themselves at a crossroads as a vulnerable group without social protection. Lockdowns and restrictions of movement created huge barriers for them, restricting their livelihoods and access to reproductive health goods and services. In addition, personal protective equipment such as masks, sanitizers and soap were unaffordable luxuries. This minority group was ultimately in the midst of a pandemic facing extreme exclusion without any safeguards.
These realities steeled KESWA's resolve to cushion sex workers from the impact of the pandemic. The Alliance reached out to donors like Hivos East Africa, who provided grants to support sex workers through food donations and maintaining a 24-hour emergency hotline to access medical services.
Caroline Njoroge, a program coordinator at KESWA, led their Covid-19 relief efforts for sex workers. ''We set up the 24 hour hotline based on a survey we had conducted to measure the socio-economic impact of the pandemic on sex workers, '' she explained.
''The survey revealed significant trauma and a rise in incidences of violence against them. We unfortunately had 16 murders [of sex workers] in a span of one week within the country,'' she told us, shocked.
Yet KESWA also learned some very good lessons during the pandemic. For example, programming became more innovative to bring together donors and address immediate threats that sex workers were facing. Psychosocial factors such as mental health were now factored in as relief support and considered urgent critical care to be funded by donors.
As KESWA celebrates IDAHOT this year, its slogan "nothing for us without us" specifically calls for an end to hateful stereotypes and violent behavior against sex workers and pushes for inclusivity and respect for everyone's human rights.
About the Strong in Diversity (SiD) Program (ended in March 2021)
The program aims to promote inclusion of LGBTI+ people in society and the recognition of their rights, by opposing discrimination and stereotyping, while also making LGBTI+ communities more resilient.
In Kenya, SiD works with local organizations to champion dialogue, acceptance and inclusion of LGBTI+ people across the country.